Cylinder Trolleys
The Cylinder Trolleys are used to to hold and transport heavy compressed gas cylinders. The rubber tired wheels and castors are meant for easy mobility and offer a greater stability in holding jumbo cylinders and moreover the operator has to carry no load. The cylinder trolleys offer a firm hold to the operators. These trolleys can be handled with ease and comfort and is also fully adjustable.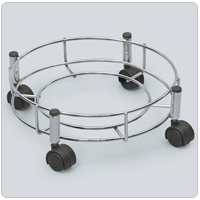 Gas Cylinder Trolley
In order to meet the variegated demands of the clients we, have come up with Gas Cylinder Trolley. These are manufactured by our experts using high grade AISI 304/202 grade stainless steel. Sturdily constructed, these products allow easy movement of heavy cylinders. The product is provided with four strong wheels that have excellent grip to keep the cylinder stable while it is not moved.


Features :


Rugged construction


Low maintenance


Smooth movement


Resistant to abrasion